Alice in Wonderland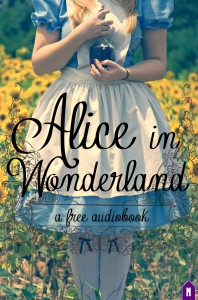 Explore the whimsy realm of Wonderland through the eyes of the curious Alice.
April Sadowski reads the story, which will be presented one chapter at a time.
Sound and background effects add to the story's depth.
The cover image used is by Brandon C. Warren.
Download a PDF of each chapter with companion audio embedded (you can take it with you!). Please right click and save to your computer as it may not render in your browser correctly (you can read it, just not hear the audio). Acrobat Reader 9+ is recommended.
The textual content of this book is in the public domain in the USA. Check your country's copyright law before downloading if you are accessing internationally.
Chapter One
Down the Rabbit Hole
Download PDF (16MB)
Chapter Two
The Pool of Tears
Download PDF (16MB)
Chapter Three
A Caucus-Race and a Long Tale
Download PDF (23MB)
Chapter Four
The Rabbit Sends in a Little Bill
Download PDF (19MB)
Chapter Five
Advice from a Caterpillar
Download PDF (17.5MB)
Chapter Six
Pig and Pepper
Download PDF (23MB)